SWOOS and our Mission
Senior Watch Old Ottawa South (SWOOS) is a volunteer committee of the Ottawa South Community Association (OSCA) that reflects and represents of the interests of the residents in the neighbourhood south of the Glebe and bound by Bronson, the Rideau River, and the Canal. This group manages multiple projects focused on making our community more age-friendly in terms of winter walkability, intergenerational social connections, housing, and health.
Challenge & Application Intent
In recent years the trend of repeated thaw/freeze cycles have resulted in slippery and irregular snow and ice on our sidewalks. As a result, walking conditions can become difficult for all of us and for the elderly and mobility challenged, they can become too perilous ~ a reason to stay inside. Given the rapid increase in the relative proportion of the elderly, this persistent trend has become urgent.
Our committee is exploring the development of a geo-referenced system (GettingOUT!) to collect winter walkability information from community participants and other pre-existing sources. The intent is to provide an easy to use map/route-based information system that collects and disseminates timely winter walkability information to end users in the community, and management personnel in the City.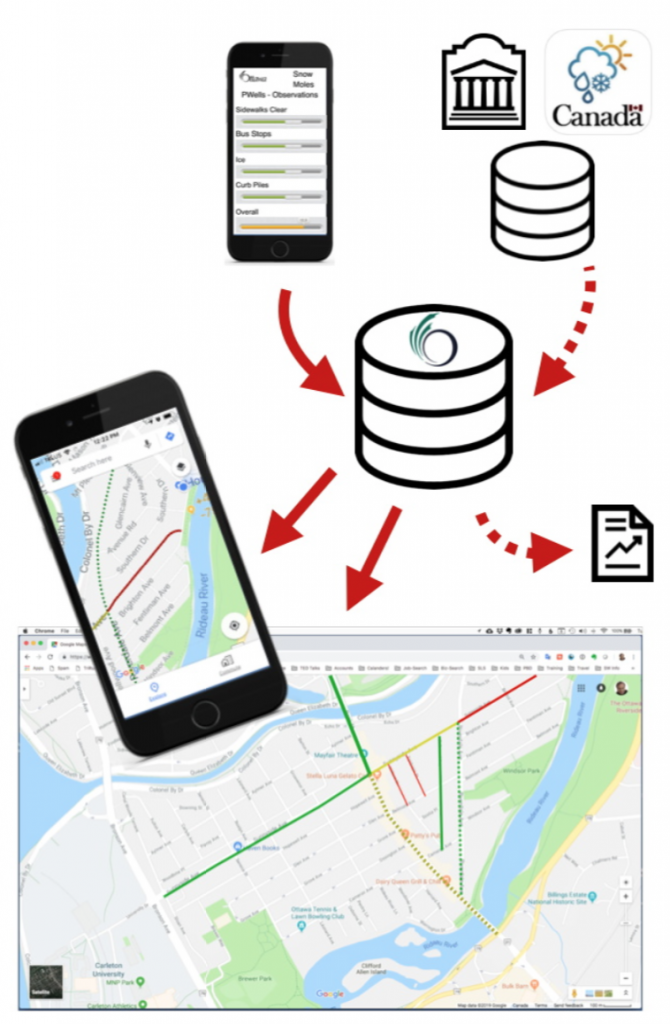 Notional Illustration of Application Input Sources and Display Options
The system will reflect information from volunteer observers, and other sources (Weather Canada, City of Ottawa, and other developmental walkability systems). Information will be both location and time sensitive and will provide guidance on the use of local sidewalks. Such a system may also provide reliable qualitative data to guide snow and ice removal, as well as salt and grit application.
Project Reference URL: https://oldottawasouth.ca/swoos
The GettingOUT! project is being managed by Peter Wells and Anna Cuylits under the mandate of OSCA's Senior Watch – Old Ottawa South. Mr Wells is an Ergonomist who has worked in technology as a User Interface Designer for over 20 years. Ms. Cuylits is a retired professional hospital Social Worker with experiences in psychotherapy, geriatric rehabilitation and discharge planning. Both Mr. Wells and Ms. Cuylits are available to provide further information on the background, technical and operational elements of the proposed system.
Background Information