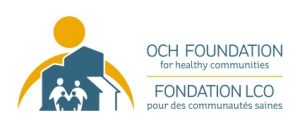 Ottawa Community Housing (OCH) provides approximately 15,000 homes to over 32,000 tenants, including seniors, parents, children, couples, singles and persons with special needs, within many communities across the City of Ottawa. They house a diverse population of varying languages, ethnicities and cultures. OCH is the largest social housing provider in Ottawa, managing two-thirds of the City's social housing portfolio, and is the second largest in Ontario.
In 2012, OCH established a foundation to meet the social needs of its tenants. Today, the OCH Foundation brings together community leaders to help families, seniors, and individuals achieve personal success while focusing on the core areas of education, employment, and building healthier communities. We provide children with opportunities for recreation through our recLINK program. We provide mentorship, employment experience, and access to post-secondary education for our youth through the Youth Futures program. We teach women basic computer skills through our recent partnership with the iSisters program. Through these initiatives and the many others we support, the OCH Foundation creates a culture of success in low-income communities to help break the cycle of poverty.
Challenge:
We need your help to create a directory of recreational programs in the Ottawa region. Using a data feed of community centers and recreation actives we hope to design an accessible, interactive experience to connect these communities and streamline the registration process.
Through this online platform, we hope to improve recLINK's service delivery, optimize its staff's efficiency, and better connect with Ottawa's recreational service providers to members in our community.
This directory will help connect sports and recreational events to the community of OCHF. It will help provide opportunities to explore new things and open up a world of fun and excitement for anyone and everyone.